SELECTED CONFIGURATIONS FOR THE BMW X6.
BMW X6 xDrive30d
STANDARD.
BMW X6 xDrive30d with 210 kW
HiFi loudspeaker system
DAB-Tuner
BMW X6 xDrive40i
M SPORT.
M Sport package
M sport brake, high-gloss red
Bowers & Wilkins Diamond Surround Sound System
THE DESIGN HIGHLIGHTS OF THE BMW X6.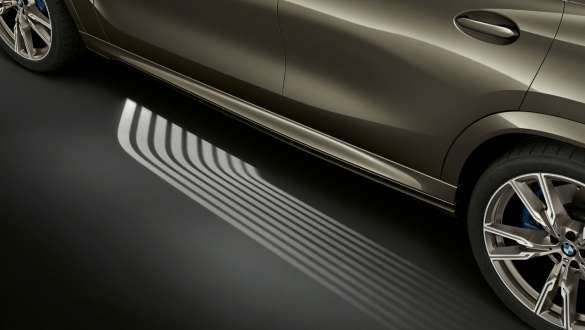 Welcome Light Carpet.
The Welcome Light Carpet function projects an ambient light graphic in front of the vehicle doors and creates a surrounding welcome ambience right at the entrance. The light carpet also makes getting out in the dark even more comfortable and safe.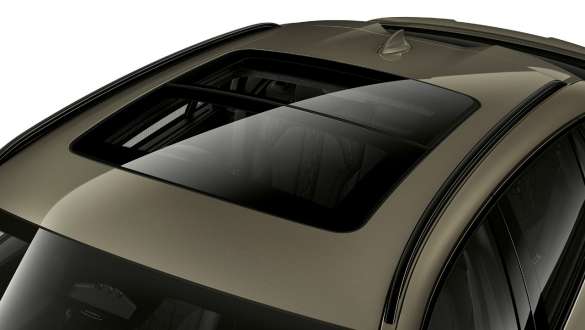 Panorama glass roof.
When open, the Panorama glass roof provides a great deal of fresh air. Closed, it creates a bright, light-flooded atmosphere in the interior. It opens and closes completely automatically at the push of a button or with the vehicle key, and is equipped with slide and lift functions, roller sunblind and wind deflector.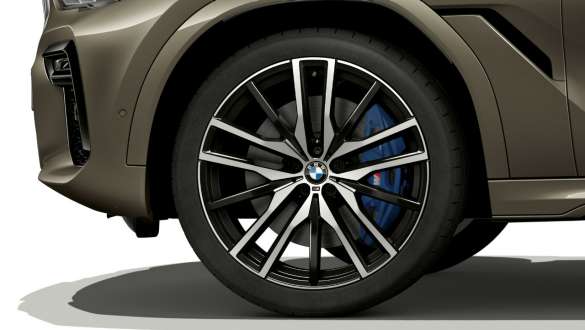 22" M light alloy wheels Double-spoke style 742 M Jet Black with mixed tyres.
22" M light alloy wheels Double-spoke style 742 M Jet Black with mixed tyres, front 9.5J x 22 with 275/35 R22 tyres, rear 10.5J x 22 with 315/30 R22 tyres.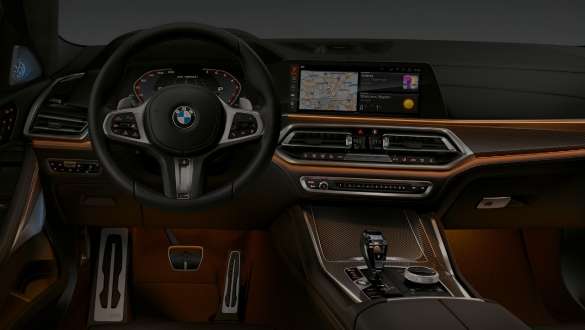 Ambient light.
The standard Ambient light, including Ambient contour lighting in the front and rear doors, creates a relaxed, cosy lighting atmosphere in the interior. The Welcome Light Carpet illuminates the area in front of the vehicle doors when entering and exiting. Six dimmable light designs in White, Blue, Orange, Bronze, Lilac and Green are available.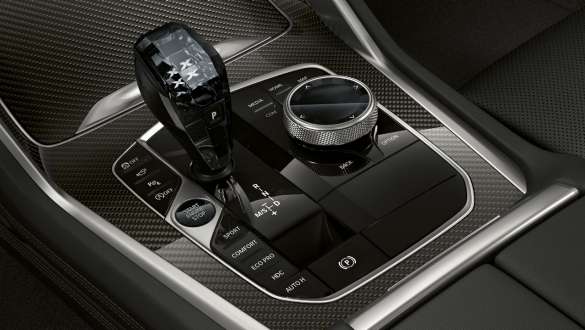 Glass application 'CraftedClarity' for interior elements.
The 'CraftedClarity' glass application comprises hand-made glass elements that visually and tactilely enhance the interior. The details of the gear selector, BMW Controller and Start/Stop button are made of fine crystal.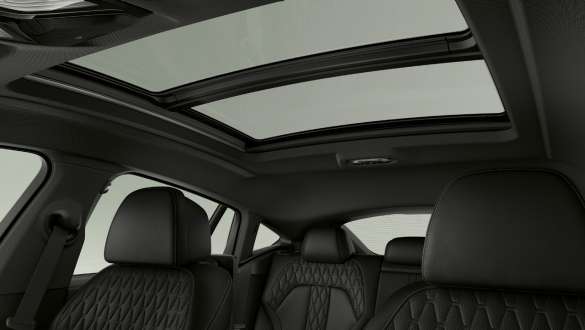 Panorama glass roof Sky Lounge.
The Sky Lounge panoramic glass sunroof creates a generous sense of space during the day, while at night it lends an atmospheric mood with a light design consisting of more than 15,000 light elements. Additionally, the backs of the front seats have an ambient lighting. The light design and the seat lighting can be switched between the six colours of the Ambient light.
EXPLORE THE DESIGN OF THE BMW X6 IN THIS VIDEO.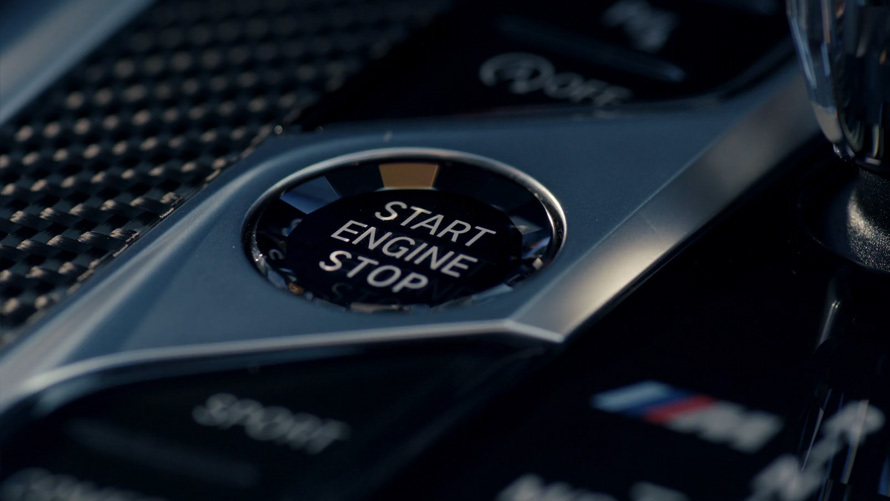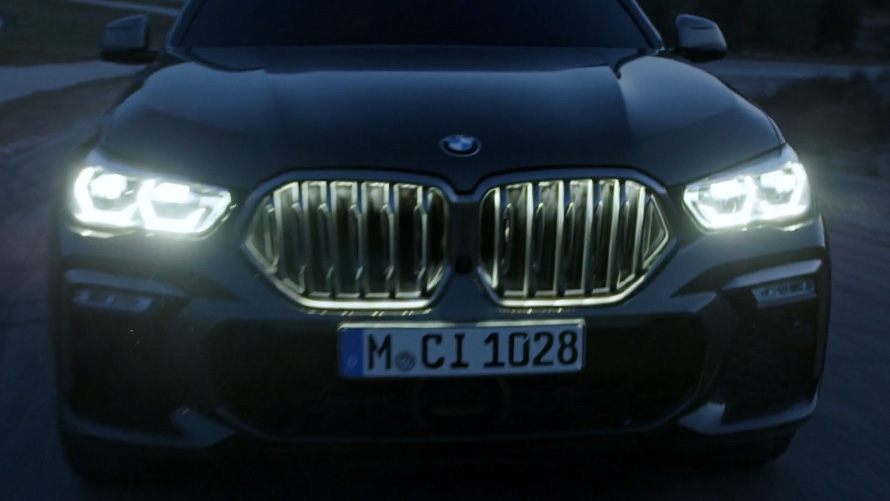 BMW Laserlight and BMW Kidney 'Iconic Glow'.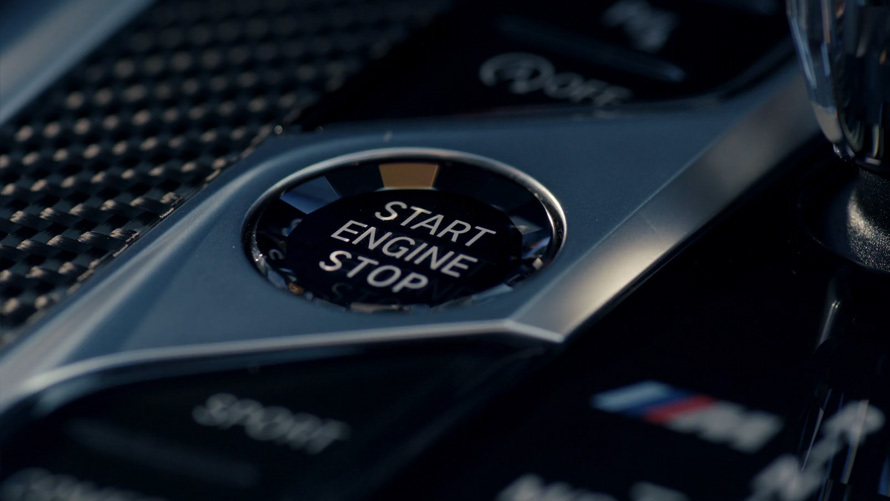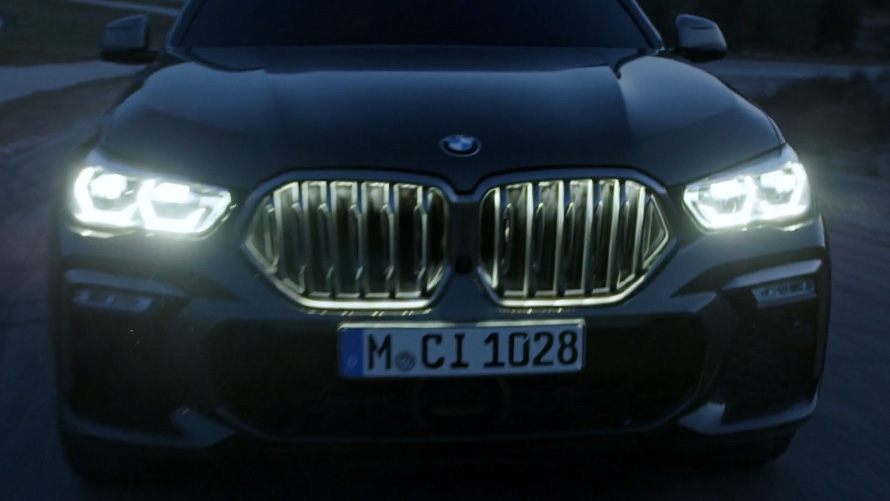 THE DRIVING DYNAMICS OF THE BMW X6.
The top performance of the 530-hp 8-cylinder petrol engine, the outstanding precision of the Adaptive M suspension Professional or the effortless cooperation between Adaptive 2-axle air suspension and xOffroad package make the BMW X6 a superior Sports Activity Coupé on any terrain.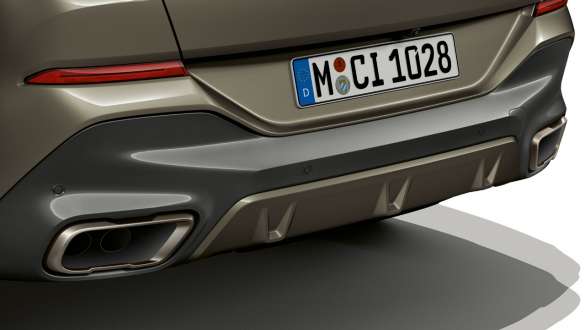 M Sport exhaust system.
The M sport exhaust system delivers a sound that can be adjusted to an even more intense engine sound with the driving dynamics buttons in the SPORT and SPORT+ programmes, while the comfort-oriented programme prioritises more discreet engine acoustics.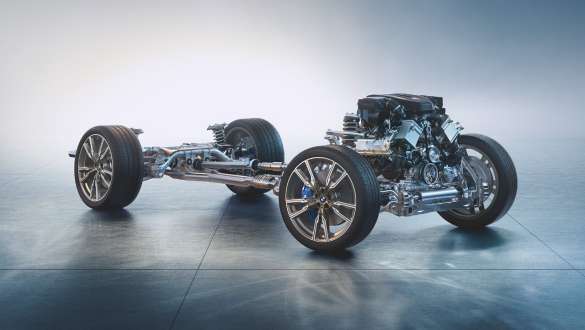 Adaptive M suspension
The Adaptive M suspension can be electrically adjusted at any time to suit the road and driving conditions. You can also adjust the suspension characteristics via the Driving Experience Control to enable your preferred driving style at the time – from comfortable to extremely athletic with markedly agile handling.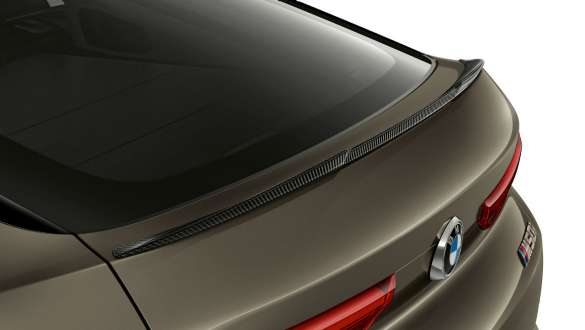 M Carbon rear spoiler.
The M Carbon rear spoiler emphasises the vehicle's powerful, sporty design and noticeably reduces unwanted aerodynamic uplift on the rear axle.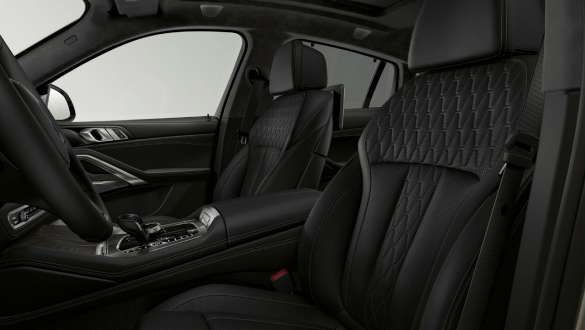 Sport seats for driver and front passenger.
Dynamic and comfortable: the standard and individually adjustable Sport seats for the driver and front passenger feature numerous electric adjustment options, including backrest width and seat angle. Together with adjustable thigh support, the taller seat and backrest bolsters provide excellent ergonomics and more lateral support during fast cornering.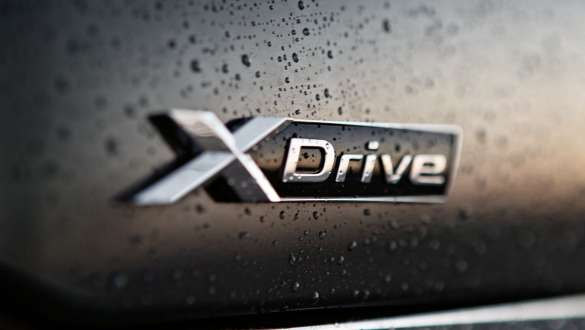 BMW xDrive.
The intelligent BMW xDrive all-wheel drive system smoothly and variably distributes drive power to the front and rear wheels for maximum traction, driving dynamics and safety in every driving situation. For even better agility, the electronically controlled power distribution for instance counterbalances oversteer or understeer on bends.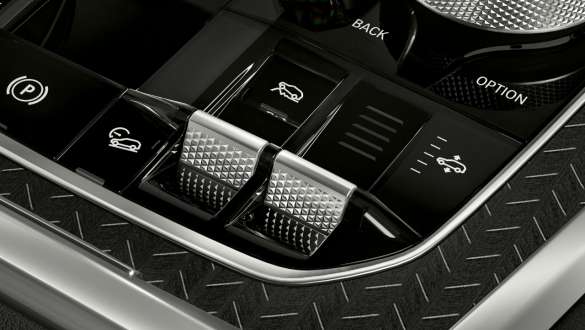 xOffroad package.
The BMW X6 features an xOffroad package that allows you to travel safely and quickly on the road as well as on less solid surfaces at all times. Four selectable off-road modes adapt the all-wheel drive BMW xDrive even more precisely to the current driving surface – for even better traction on sand, rocks, gravel or snow.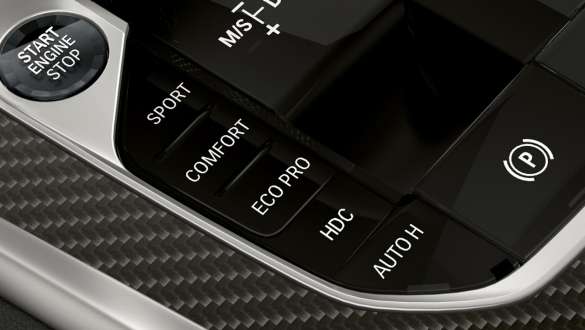 Driving Experience Control.
The Driving Experience Control offers the driver the choice between the standard COMFORT mode, ECO PRO Mode, geared towards efficiency, and SPORT mode, which enables even more dynamic driving. The new interactive Adaptive Mode function continuously adjusts the adaptive suspension, the steering and the Steptronic transmission to suit the current driving situation.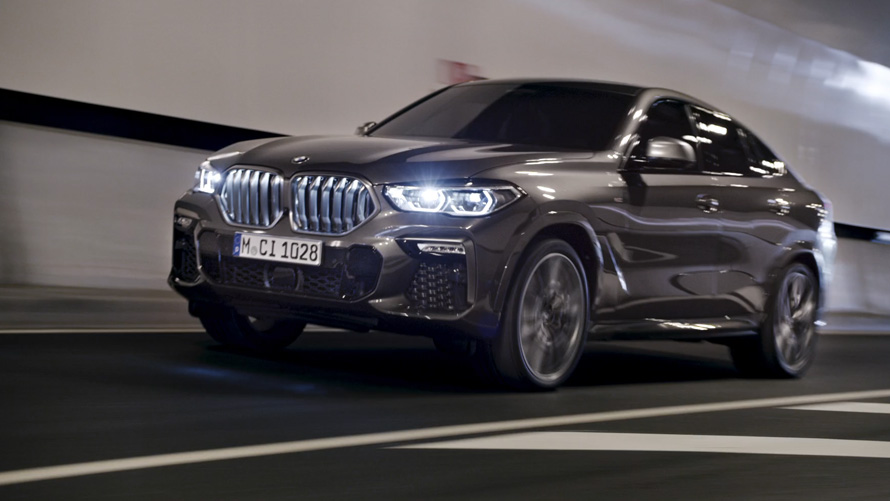 EXPERIENCE THE SUPERIOR DRIVING CHARACTERISTICS OF BMW X6.
ACCESSORIES AND BMW M PERFORMANCE PARTS FOR THE BMW X6.
BMW M Performance Parts allow you to give your BMW X6 the maximum amount of motor racing character. Choose from optically enhanced design features for the exterior as well as attractive forged and light alloy wheels. With Original BMW Accessories, you adapt your BMW to your personal wishes: the products are perfectly matched to the BMW X6 in terms of quality, design and performance.

Original BMW Accessories
M Performance Parts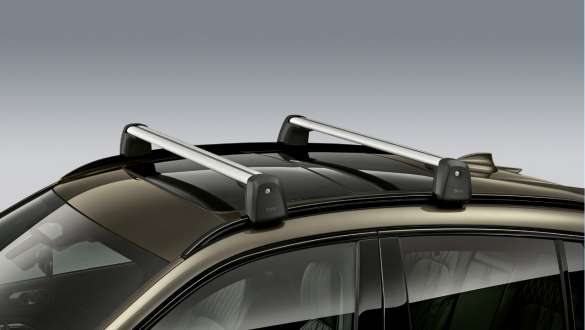 BMW roof cross bars.
The roof cross bars can be combined with all BMW roof rack mounts and roof boxes and are the perfect visual complement to the vehicle as a whole. They are easy to install without tools and comply with the highest quality and safety standards thanks to their sturdy construction and anti-theft locking system.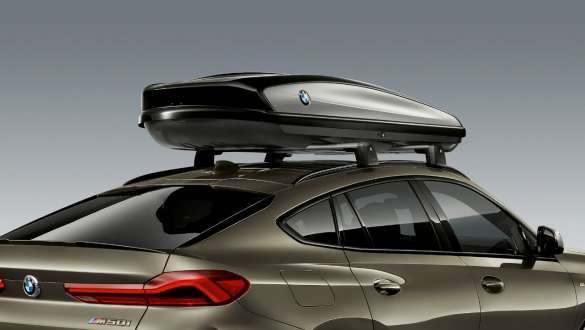 BMW roof box 520 black/titanium silver.
The modern roof box in black with titanium silver side panels has a capacity of 520 litres and is compatible with all BMW roof rack systems. Due to the fact that it can be opened from both sides and has triple central locking on each side it is convenient to load and lock for theft protection.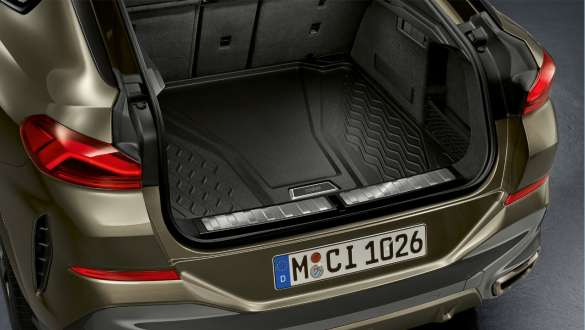 Luggage compartment mat.
The anti-slip, water-resistant and highly durable mat with raised border on all sides protects the luggage compartment from dirt and moisture. In black, it perfectly complements the interior of a vehicle with the Basic equipment.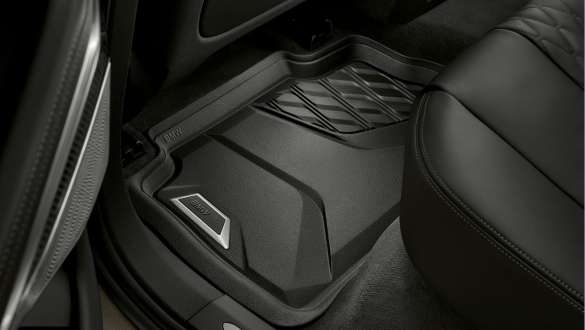 BMW floor liner rear.
Reliable functionality combined with athletic elegance: the anti-slip, water-resistant and durable BMW floor liner with all-round raised border protects the rear footwell against moisture and dirt. In black with stainless steel inlay. A special 3D format to dovetail perfectly both in terms of look and fit.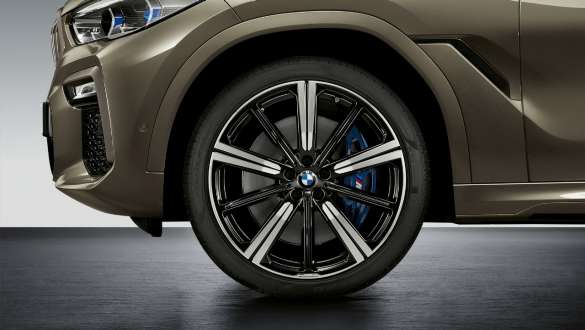 22'' M Performance light alloy wheel Star-spoke style 749 M in Bicolor.
The high-quality, weight-optimised 22'' M Performance light alloy wheel Star-spoke style 749 M is designed in Bicolor Jet Black, gloss-lathed with the colour M logo and M Performance lettering. Single front wheel, wheel size 9.5J x 22, without tyre.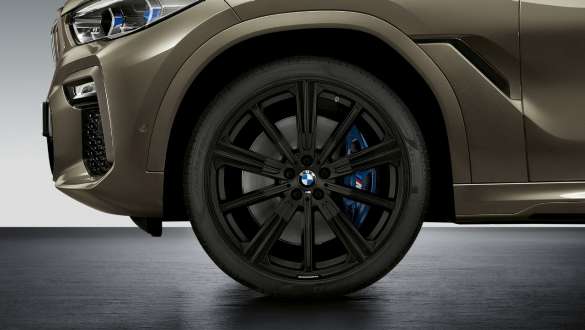 22'' M Performance light alloy wheel Star-spoke style 749 M Jet Black matt.
The high-quality 22'' M Performance light alloy wheel Star-spoke style 749 M is weight-optimised with flow forming and designed in Jet Black matt with the M Performance lettering and the colour M logo. Single front wheel, wheel size 9.5J x 22, without tyre.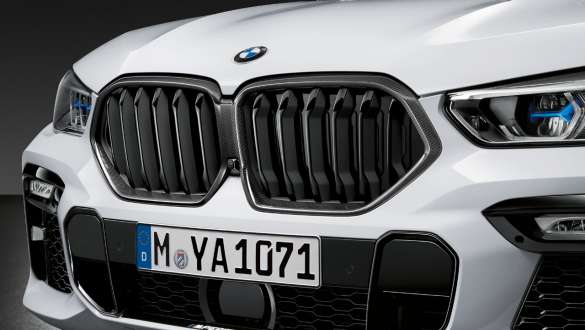 M Performance kidney grille carbon fibre.
Show your style: The frame of the M Performance kidney grille is made of 100 percent hand-crafted premium carbon fibre and the decorative slats consist of extra sturdy plastic. A visual highlight at the front of the vehicle for an especially elegant, sporty and individual look.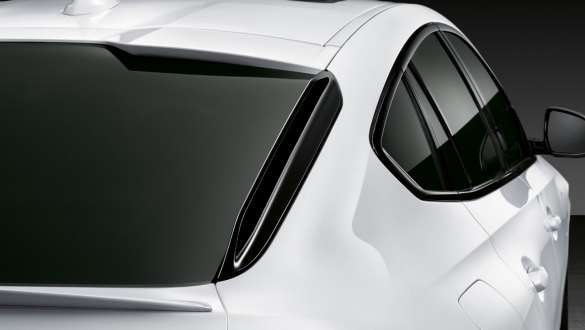 M Performance rear fins in Black high-gloss.
For an elegant touch of athletic flair: The M Performance rear fins emphasise the vehicle's dynamic elegance. They enhance the vehicle's athletic character and individuality.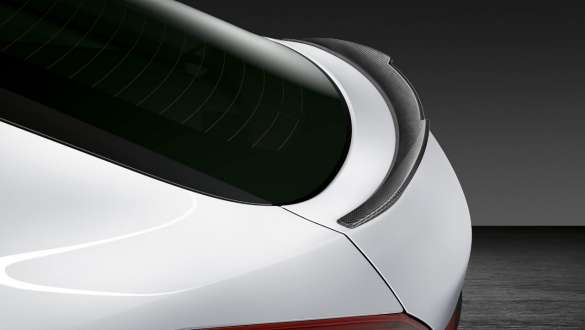 M rear spoiler carbon fibre.
Even more impressive: The M rear spoiler made of carbon fibre emphasises the premium-quality, dynamic appearance of the vehicle. The high-tech material carbon fibre makes it extremely lightweight, and at the same time very sturdy. Elaborately hand-made from high-quality carbon fibre, it is perfectly fitted to suit the vehicle's design as well as other M Performance components made of carbon fibre.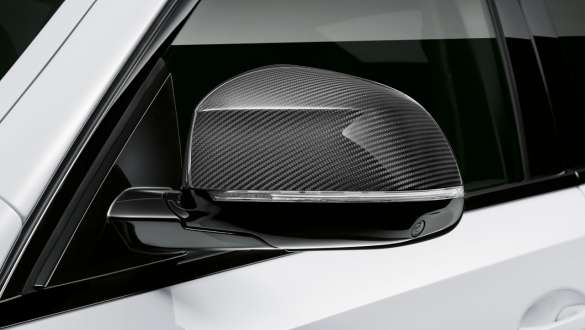 M Performance exterior mirror cap carbon fibre.
Meticulously hand-made from carbon fibre, the striking exterior mirror caps underline the vehicle's high-tech pedigree. Their dynamic design ensures an eye-catching premium look and adds an individual athletic touch.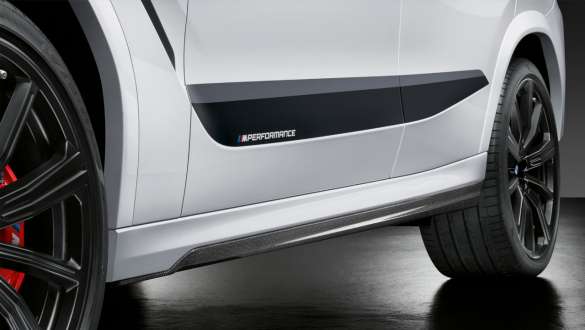 M Performance side decals in frozen black.
Athleticism across the board: The M Performance adhesive film in Frozen Black (black/matt grey) gives the vehicle a highly individual and dynamic appearance. The position of the adhesive film above the side skirt emphasizes the vehicle's characteristic design features and proportions.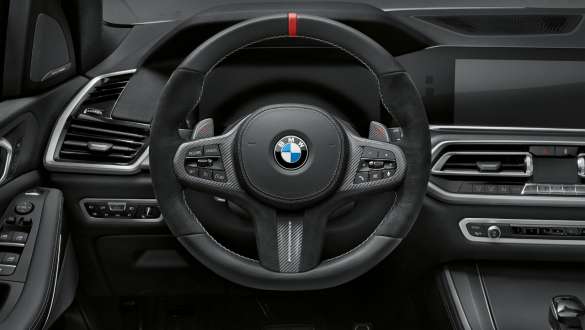 M Performance steering wheel.
Gripping facts: Thanks to its Alcantara-lined grip area the M Performance steering wheel provides excellent feel and grip – for a more direct and responsive steering feel. Its distinctive design and centre band made of red leather underscore its motorsport style.
The BMW Individual equipment options further highlight the distinctive appearance of the BMW X6 with exclusive paint finishes combined with fine leather upholsteries and interior trims.

Read more
The distinctive front of the BMW X6 Individual.
The imposing rear of the BMW X6 Individual.
BMW Individual door sill.
BMW Individual upholstery.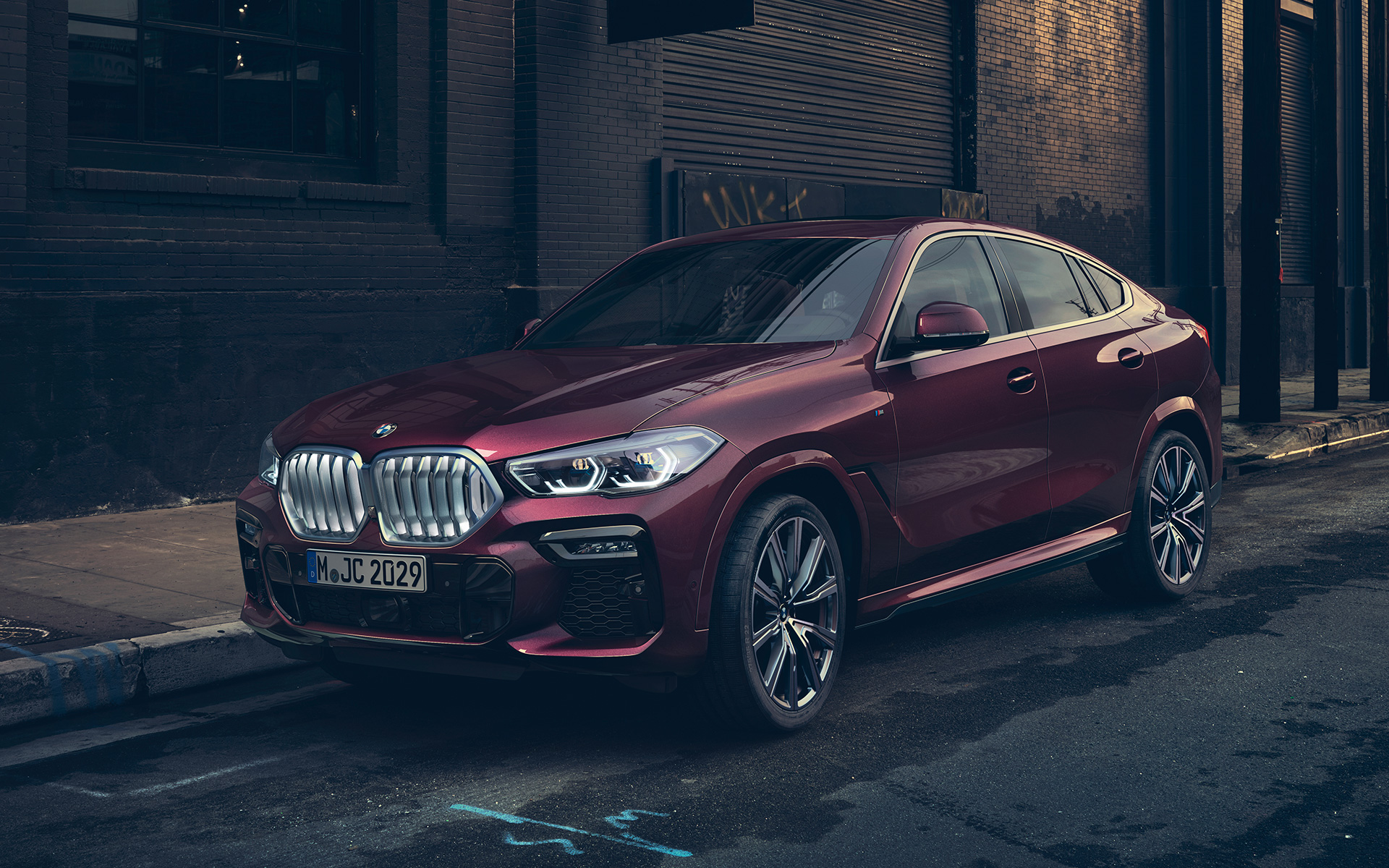 Three-quarter front view BMW X6 Individual G06 2019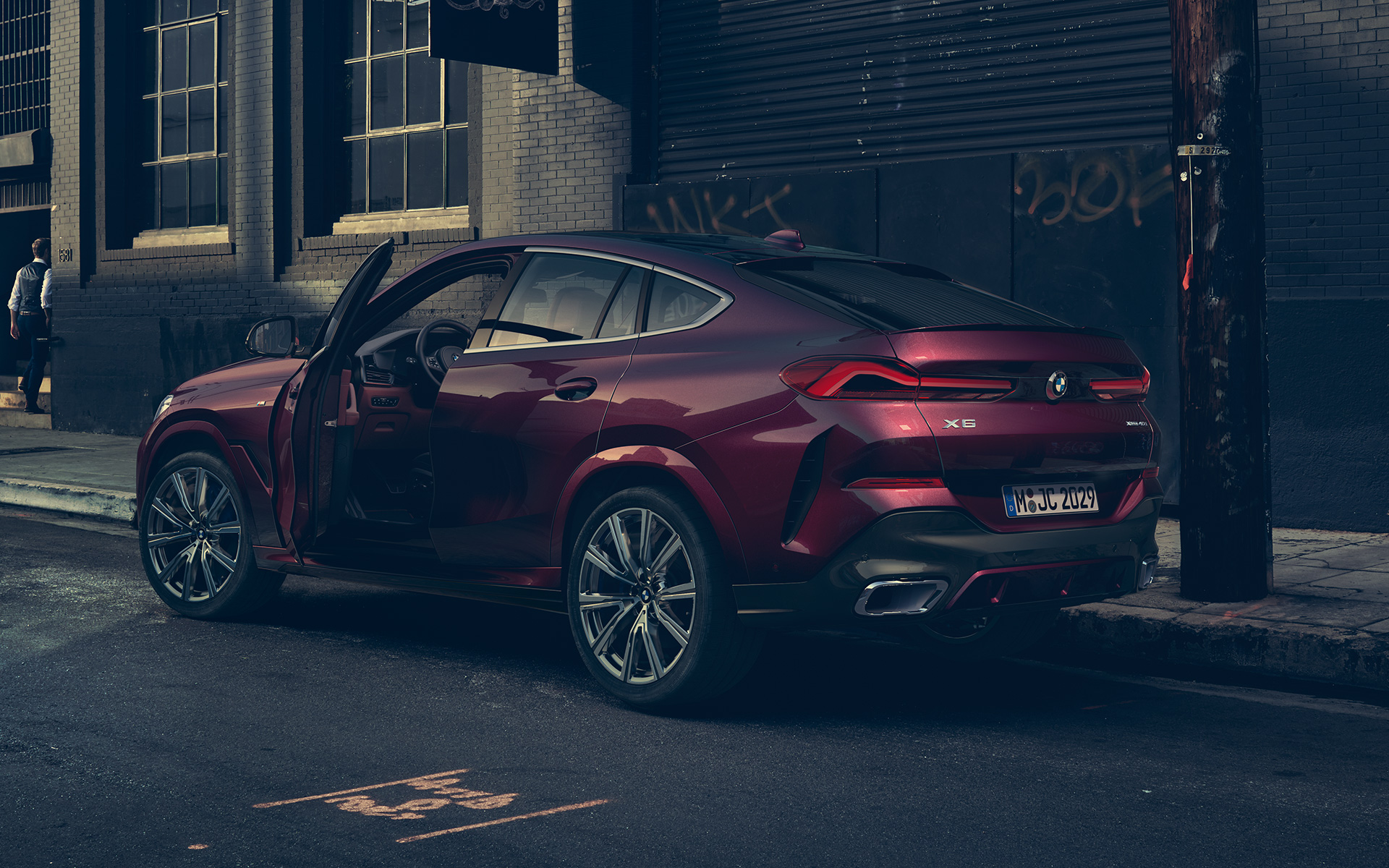 Three-quarter rear view BMW X6 Individual G06 2019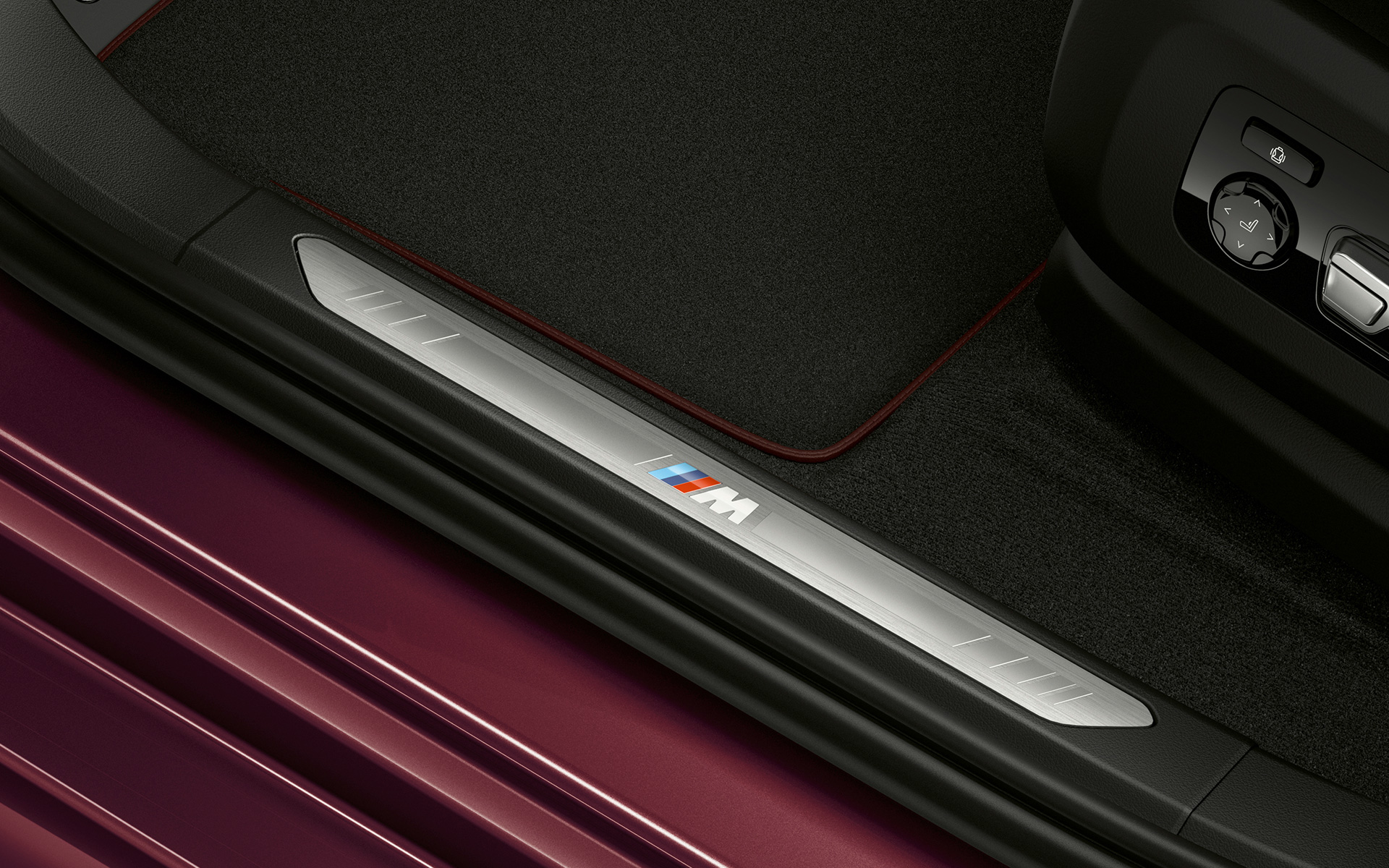 BMW Individual door sill BMW X6 Individual G06 2019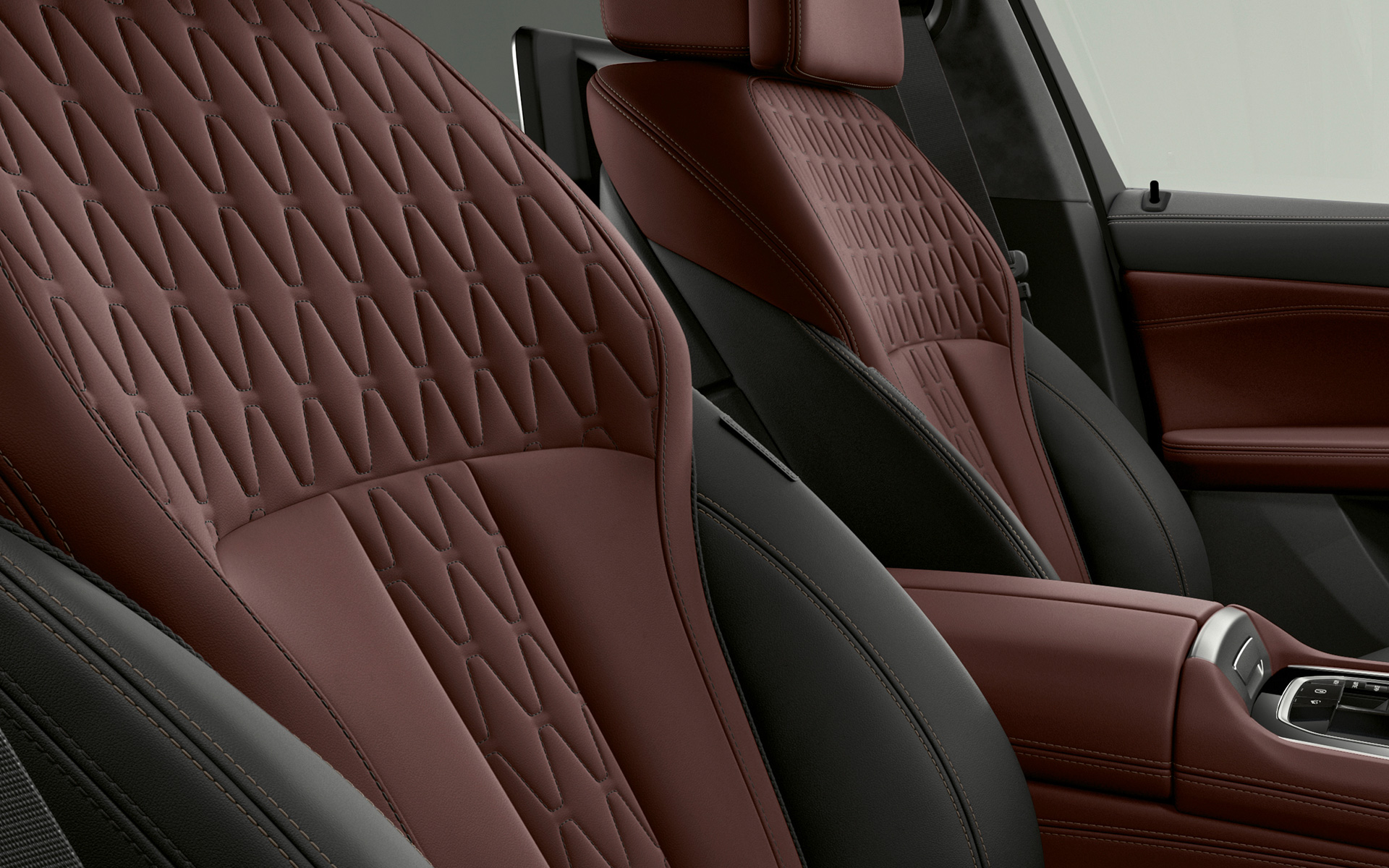 BMW Individual upholstery BMW X6 Individual G06 2019
The distinctive front of the BMW X6 Individual.
The imposing rear of the BMW X6 Individual.
BMW Individual door sill.
BMW Individual upholstery.
DRIVING ASSISTANCE SYSTEMS AND DIGITAL SERVICES IN THE BMW X6.
Alongside all the technologies and features such as the BMW Head-up Display, the BMW X6 still has more than enough space for numerous assistants and services.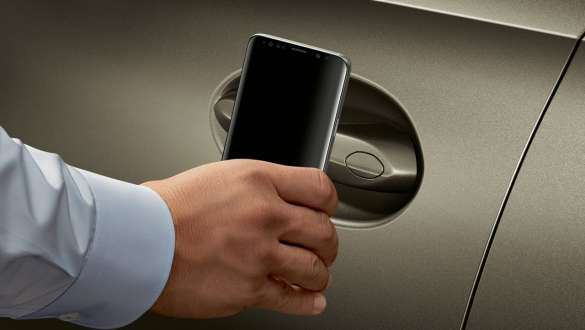 BMW Digital Key.
No need to take the key with you as long as you have your iPhone with you. You can lock and unlock your BMW and even start it with the BWM Digital Key. You can also authorise up to five people with compatible iPhones to use your BMW. Among other things, the maximum speed can be limited – ideal for novice drivers. The Digital Key is only compatible with selected iPhones. A list of compatible iPhones is available at bmw.com/digitalkey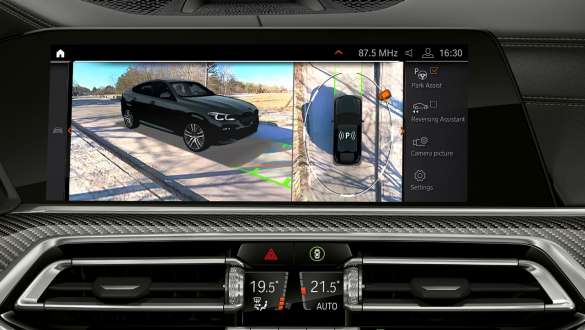 Driving Assistant Professional.
Driving Assistant Professional offers optimum comfort and safety during critical or monotonous traffic situations. Apart from the contents of the Driving Assistant, it also includes Steering and Lane Control Assistant with extended functions, Lane Change and Emergency Stop Assistant and Lane Keeping Assistant with active side collision protection.
TECHNICAL DATA OF THE BMW X6.
BMW X6 xDrive40i and other engines.
| | |
| --- | --- |
| Engine power in kW (hp) at 1/min: | 245-250 (333-340)/5,500-6,250 - 5,500-6,500 |
| | |
| Acceleration 0–100 km/h in s: | |
| Fuel consumption combined in l/100 km (WLTP): | |
| CO2 combined emissions in g/km (WLTP): | |
Including of /content/bmw/marketZA/bmw_co_za/en_ZA/publicPools/teaser-pool/medium-teasers/tyre-energy-lables/jcr:content/par-4col/wideteaser_67 failed
Fuel consumption and CO2 emissions of the BMW X6.
BMW X6 M50i:
Fuel consumption in l/100 km (combined): 11.5
CO2 emissions in g/km (combined): 263

Official data on fuel consumption and CO2 emissions were determined in accordance with the mandatory measurement procedure and comply with Regulation (EU) 715/2007 valid at the time of type approval. In case of a range, figures in the WLTP take into account any optional equipment. For newly type-tested vehicles since 01.01.2021, the official data no longer exist according to NEDC, but only according to WLTP. For more information on the WLTP and NEDC measurement procedures, see www.bmw.de/wltp

For further information about the official fuel consumption and the specific CO2 emission of new passenger cars can be taken out of the "handbook of fuel consumption, the CO2 emission and power consumption of new passenger cars", which is available at all selling points and at https://www.dat.de/angebote/verlagsprodukte/leitfaden-kraftstoffverbrauch.html

Read more
​
Global shortages on standard and optional equipment.
Please note that certain standard and optional equipment may not be available on selected vehicles at present. Please check the listed features on your vehicle when placing your order and confirm the exact delivery date after placing the order with your preferred Retailer, as delays are possible.
​
Fuel consumption and CO2 emissions of the BMW X6.
BMW X6 xDrive40i:
Fuel consumption in l/100 km (combined): 9.0
CO2 emissions in g/km (combined): 206

Official data on fuel consumption and CO2 emissions were determined in accordance with the mandatory measurement procedure and comply with Regulation (EU) 715/2007 valid at the time of type approval. In case of a range, figures in the WLTP take into account any optional equipment. For newly type-tested vehicles since 01.01.2021, the official data no longer exist according to NEDC, but only according to WLTP. For more information on the WLTP and NEDC measurement procedures, see www.bmw.de/wltp

For further information about the official fuel consumption and the specific CO2 emission of new passenger cars can be taken out of the "handbook of fuel consumption, the CO2 emission and power consumption of new passenger cars", which is available at all selling points and at https://www.dat.de/angebote/verlagsprodukte/leitfaden-kraftstoffverbrauch.html