RESTRAINT. IN UNRESTRAINED PACKAGING.
BMW EfficientDynamics in the BMW X4.
Restraint is not an attribute usually associated with the BMW X4. The one notable exception is the fuel consumption and CO2 emissions. The latest BMW EfficientDynamics technologies and an aerodynamic design guarantee low values without any compromise in performance and dynamics.

Read more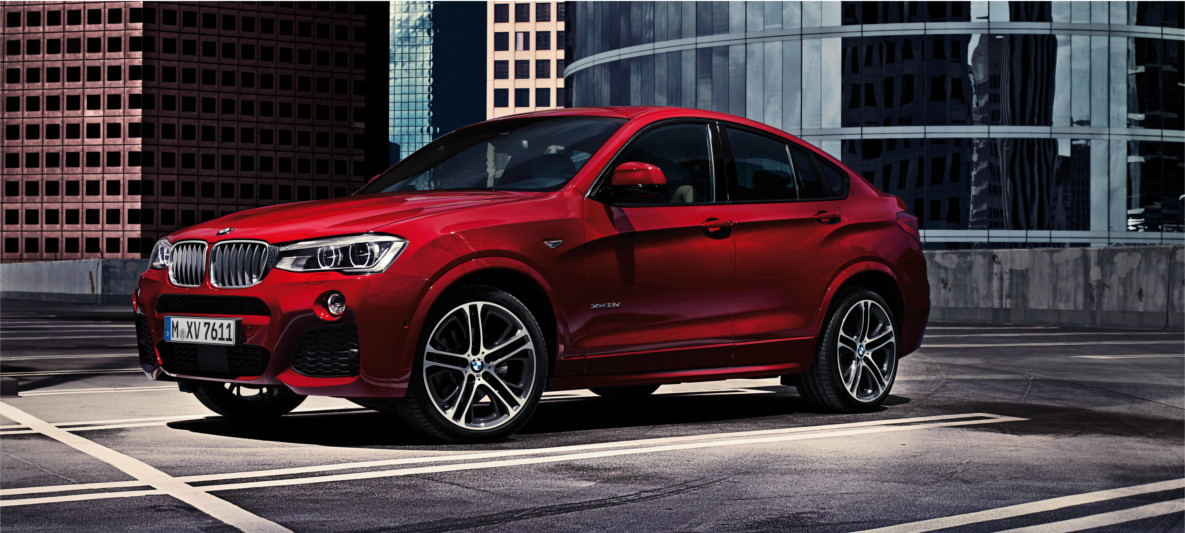 AERODYNAMICS.
The entire vehicle design is testament to the BMW EfficientDynamics philosophy. Every BMW boasts excellent air resistance figures thanks to a range of mutually optimised aerodynamic elements, which in turn has a positive effect on efficiency and fuel consumption.
For example, the flat undercarriage cover with engine compartment and rear axle shield improve the car's aerodynamics. These new casing elements are not only highly advantageous in terms of aerodynamics. They also improve sound insulation and provide greater protection from rust. Further innovations in aerodynamics include the defined rear spoiler lip and the aerodynamically optimised exterior mirrors. The latter improves the acoustics in addition to the aerodynamics.

INTELLIGENT LIGHTWEIGHT CONSTRUCTION.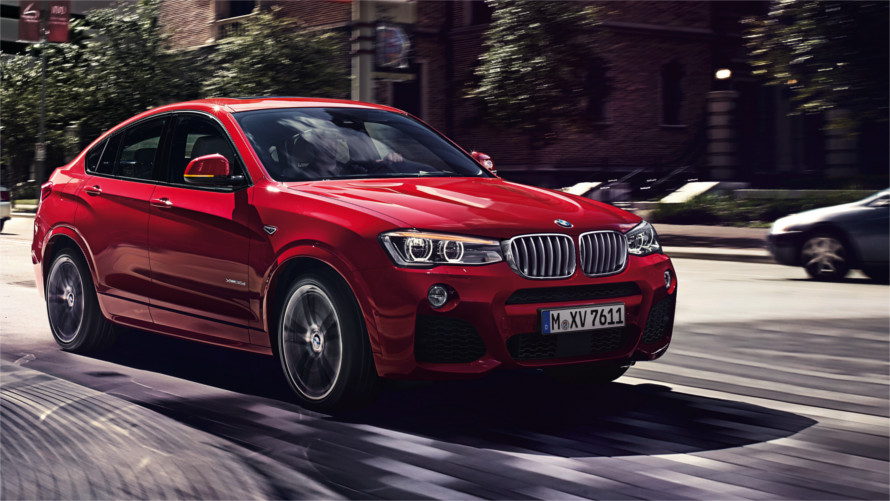 A wide range of high-tech materials are used in the construction of the BMW X4. These consist of lightweight materials such as aluminium in the front of the car and the chassis, high-strength steel in the body as well as ultra-modern plastics and magnesium.
Intelligent lightweight construction reduces the weight of components and ensures outstanding body stiffness and excellent passive safety for driver and passengers. It also improves the dynamic driving characteristics thanks to an even, well-balanced weight distribution between front and rear axles.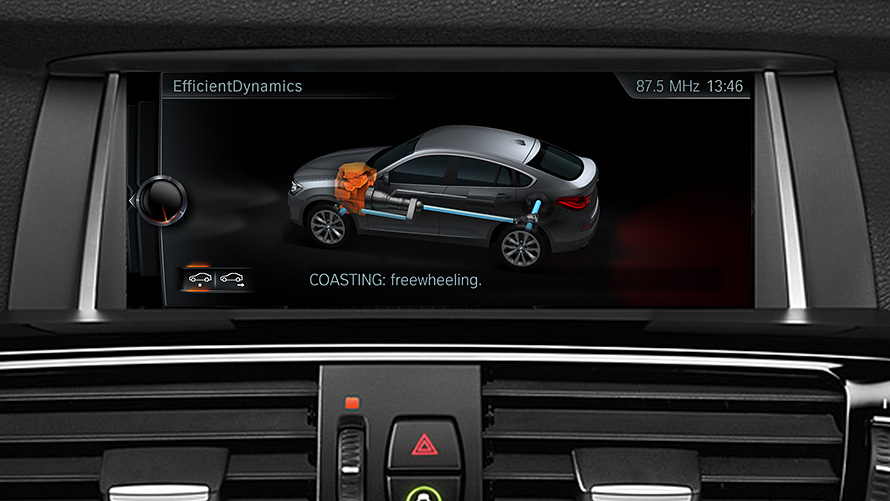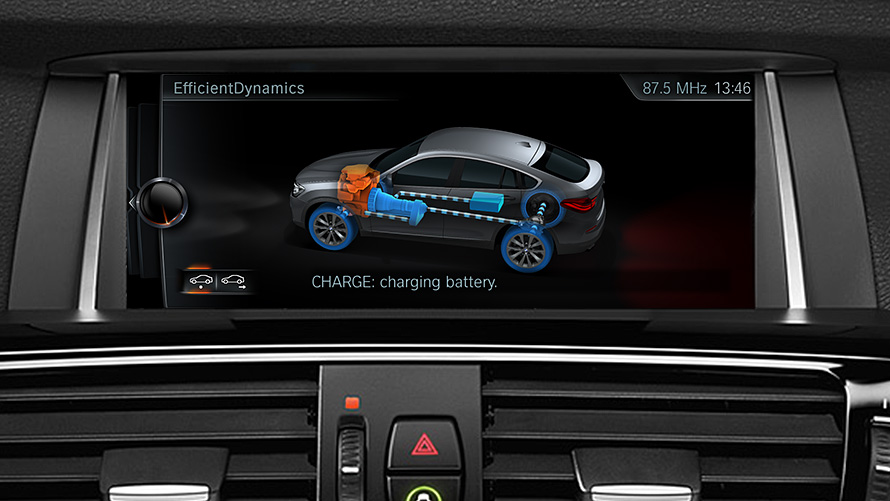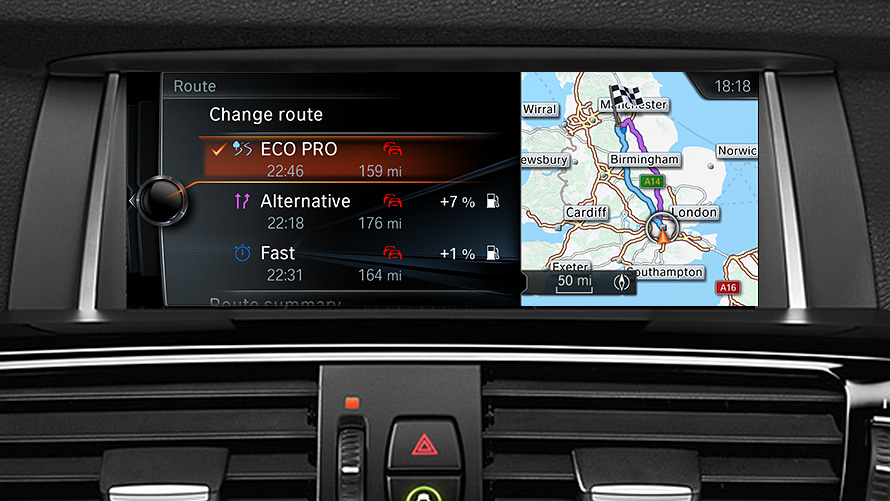 ECO PRO MODE.
ECO PRO Mode helps drivers reduce their fuel consumption by upto 20 percent, depending on their driving style – according to an internal BMW fuel consumption study.
Further savings potential can be achieved through coasting (with 8-speed Automatic Transmission Steptronic only), Route-Ahead Assist and ECO PRO Route (both with the Navigation System Professional only).

Coasting

Active Cruise Control with Stop&Go

Route-Ahead Assist

ECO PRO Route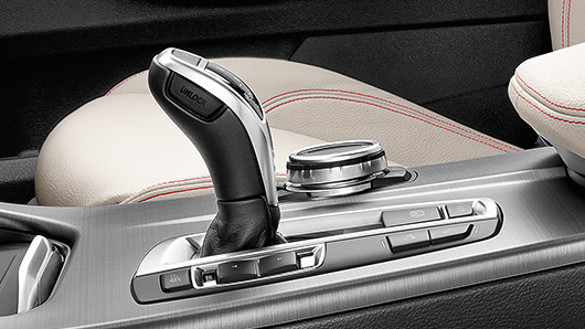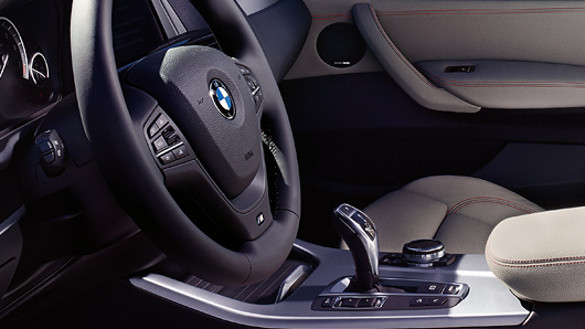 8-SPEED AUTOMATIC TRANSMISSION STEPTRONIC.
The 8-speed Automatic Transmission Steptronic sets a new benchmark in dynamic performance and efficiency and is a key element of BMW EfficientDynamics.
The particularly finely tuned gradation of the gears allows optimum power delivery – at both low and high speeds. This reduces fuel consumption significantly, while allowing the driver to enjoy increased sportiness and dynamic performance. At high speeds in particular, the additional gears reduce engine speed, in turn decreasing both fuel consumption and engine noise.
The converter clutch also helps, even if the car is changed to the manual mode. In combination with the fast engine speed transitions and the precise transmission tuning, it provides a very high level of shift comfort and reduces noise considerably.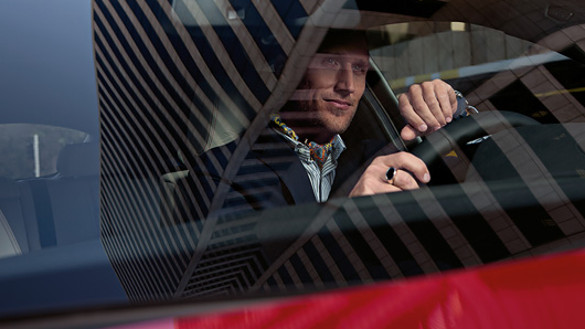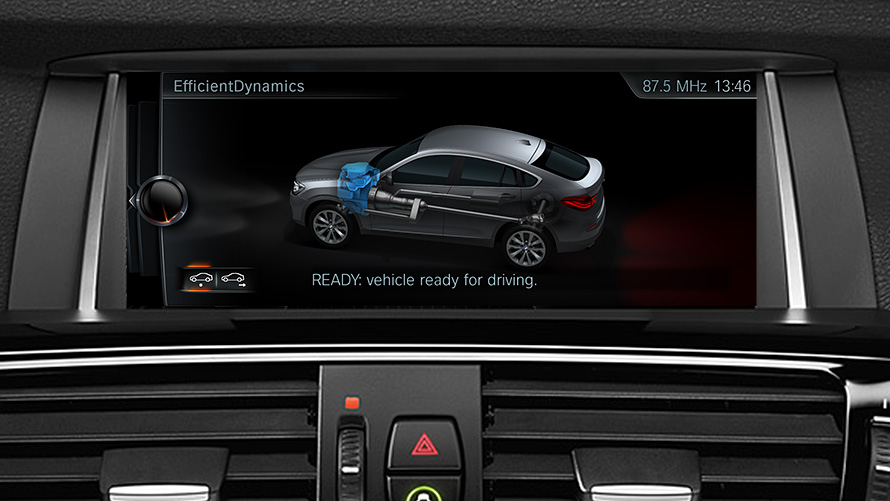 ENERGY MANAGEMENT.
The intelligent energy management in the BMW X4 is provided by a number of standard-feature BMW EfficientDynamics technologies, including the Optimum Shift Indicator, the Automatic Start/Stop function, Electric Power Steering and Brake Energy Regeneration.
The interplay between these technologies ensures the sustainable mobility of tomorrow, today.

Optimum Shift Indicator

Automatic Start/Stop function

Electric Power Steering

Brake Energy Regeneration